The effects of economic uncertainty are rippling across many sectors, however, industrial real estate seems to be an exception, according to a recent industry report. Keep reading to learn more. 
Report: Industrial Market in SoCal Remains Strong Despite Headwinds
The after-effects of the pandemic have left economists scratching their heads trying to deal with an unprecedented set of circumstances. As the world scrambles to find stability, most industries are straining. There is, however, at least one exception: industrial real estate.
According to CommercialEdge's most recent National Industry Report, demand for industrial space remains high. And while vacancies are falling everywhere, some of the most remarkable growth has been registered in Southern California.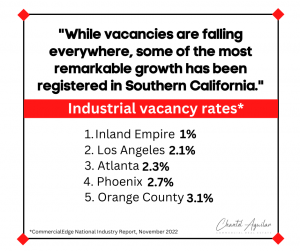 For example, Los Angeles leads the nation in year-to-date sales, with $4,370 million, while Orange County tops the list of cities with the highest year-to-date sale price per square foot with $360.
The markets with the highest growth for in-place rent over the past 12 months are the Inland Empire (11.6%) and Los Angeles (9.7%), with Orange County not far behind (7.6%).
In addition, these markets also have some of the lowest vacancy rates in the nation (Inland empire: 1.0%; Los Angeles: 2.1%;  Orange County: 3.1%).
The Other Half of the Picture
While there is reason to be optimistic, it's worth bearing in mind that the growth observed over the last few months can't be sustained permanently.
Encouraging signs are only one half of the picture. Big players like Amazon are halting or delaying the opening of distribution facilities. Additionally, the number of jobs in the industrial sector has fallen since summer.
That's why the report tempers a generally positive outlook by observing that while demand for industrial space will remain strong in the coming years, "it is unlikely that the torrid pace at which the sector grew during the pandemic will be seen again."
Chantel Aguilar: Commercial and Investment Property Expert in Orange and LA Counties
Looking to make sense of the commercial real estate market in Orange County or LA County? Chantel Aguilar maximizes property exposure and works diligently to provide each client and every listing with the resources and time required to drive results.
Contact Chantel by telephone at 562-447-0665 or by email at [email protected] and get the knowledgeable assistance you are looking for.