Among other things, Los Angeles is known as the world's most important movie production hub. The city's appetite for studio space is such that its effects ripple across many industries, including commercial real estate. 
LA's Appetite for Studio Space and Its Impact on Commercial Real Estate
According to a report by professional services network Deloitte, Los Angeles "has the largest number of soundstages and amount of soundstage space of any city in the world."
And even if the offer seems vast, the amount of soundstage space available isn't enough to satisfy an endless stream of demand. According to the same study, LA studios operate "at near 100% capacity, with waitlists 4-5 productions deep."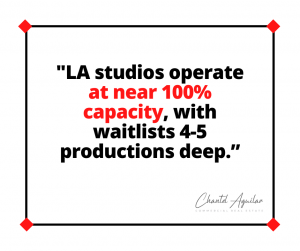 While other production hubs have been developed and are available around the world, Los Angeles remains the premier option due to its state-of-the-art infrastructure and large talent pool, two factors no other city can match.  
To complicate matters further, Los Angeles' Thirty-Mile Zone, or TMZ, is already saturated with studios.
The TMZ is an area within a 30-mile radius of the intersection of West Beverly Boulevard and North La Cienega Boulevard in Los Angeles. Filming within or outside the TMZ dictates union rates; shooting that takes place outside the TMZ is considered "on location," which can significantly increase costs.
The Implications for Commercial Real Estate
Heightened demand for studio space in LA is having a noticeable impact on industrial commercial real estate. 
For example, the newspaper Los Angeles Times recently announced that it will leave its DTLA printing facility in 2024. Among the reasons cited by The Times' president is the fact that the landlord plans to redevelop the property. According to reports, the Olympic Boulevard plant will become a lot with 17 soundstages, with construction work slated to begin in 2023.
This is far from an isolated case. Increasingly, warehouses are being converted into studio space not only in LA, but all over Southern California. Add to this the fact that Southern California has some of the nation's lowest industrial vacancy rates (just 1.1% in the Inland Empire as of September 2022) and the landscape is overwhelmingly favorable for owners of industrial properties.
To learn more about the trends shaping the commercial real estate industry in Southern California, be sure to check out our previous blogs, "California Approves Converting Shuttered Malls and Stores Into Housing" and "The Global Sand Shortage and Its Implications for Real Estate."
Chantel Aguilar: Commercial and Investment Property Expert in Orange and LA Counties
Looking to make sense of the commercial real estate market in Orange County or LA County? Chantel Aguilar maximizes property exposure and works diligently to provide each client and every listing with the resources and time required to drive results.
Contact Chantel by telephone at 562-447-0665 or by email at [email protected]m and get the knowledgeable assistance you are looking for.