The Federal Open Market Committee (FOMC) raised its benchmark interest rate by 0.25%, the eighth increase since March 2022. Keep reading to learn more about this move and its impact on Commercial Real Estate. 
Fed Raises Interest Rates by a Quarter Point
On Wednesday, the Federal Reserve announced that it is raising its benchmark interest rate by 0.25%.
This marks the eighth hike since March 2022, when the Fed began its fight to tamp down inflation, which currently sits at its highest levels since the 1980s.
Federal Reserve Chair Jerome Powell said that the battle against inflation will go on, with more hikes expected throughout 2023.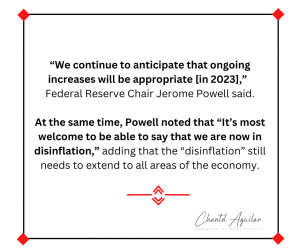 "We continue to anticipate that ongoing increases will be appropriate," he explained.
At the same time, Powell hinted that the current inflationary cycle may be finally tapering off.
"It's most welcome to be able to say that we are now in disinflation," he said, adding that the "disinflation" still needs to extend to all areas of the economy. (Click on this link to read Powell's full remarks)
At its most basic, the benchmark interest rate dictates what banks charge each other for overnight borrowing. However, interest rate hikes have an impact on a wider scale, including commercial real estate, as we'll see below.  
How Do Interest Rate Hikes Impact Commercial Real Estate?
Whenever the Fed increases its benchmark interest rates, borrowing money becomes more expensive. This, in turn, directly affects commercial real estate sales: if companies are reluctant to take out loans, they won't have the necessary capital to purchase properties.
For example, interest rate hikes were one of the reasons why industrial sales in the U.S. fell by 30% in 2022 compared to 2021, according to CommercialEdge's latest report.
For the same reason, higher interest rates can also hamper the new supply pipeline across all types of commercial properties. 
Although Powell used phrases like "ongoing hikes" or "ongoing increases" seven times during his February 1, press conference, investors don't seem to believe that interest rates will stay high for long, as the Wall Street Journal points out, noting that the market has been rallying during January,
As you can see, this is a fluid situation where contradictory signals abound. To understand how all these developments affect specifically the Southern California commercial real estate market, contact Chantel Aguilar today. 
Disclaimer: The information on this website does not constitute financial, legal, or professional advice. 
Chantel Aguilar: Your Commercial and Investment Property Expert in Orange and LA Counties
Whether you are a landlord or tenant, if you need help making sense of complex commercial real estate indicators, Chantel Aguilar can help. Chantel has a proven track record of success in helping clients navigate even the most challenging CRE lease negotiations. Contact Chantel by telephone at 562-447-0665 by email at [email protected].