Rising interest rates are all over the news these days. But what is the relationship between interest rates and cap rates? In today's post, we provide an answer.
What Are Cap Rates?
Cap rate (short for "capitalization rate") is a commercial real estate indicator that measures the rate of return that a commercial property is expected to generate.
The capitalization rate of a property is obtained by dividing its Net Operating Income (NOI) by the property's purchase or market value and then multiplying the result by 100.
Capitalization rates are often seen as a measure of risk. A higher cap rate indicates both high risk as high returns. Conversely, a low capitalization rate denotes lower risk and lower returns.
What Are Interest Rates?
At their most basic, interest rates are the cost of borrowing money. The higher the interest rates are, the more borrowers end up paying when they take out a loan.
Interest rates are determined largely by central banks, which use certain tools (such as increasing or decreasing the money supply) to move interest rates toward a target rate.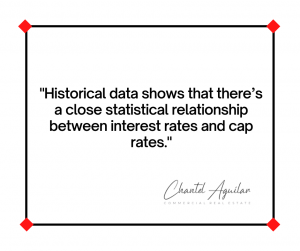 The reason why everybody's talking about interest rates these days is because The Federal Reserve has been hiking interest rates throughout 2022 in order to curb inflation.
This topic is seen as crucial because although bringing down inflation is a desirable outcome, high interest rates also increase the risk of a recession.
How Do Rising Interest Rates Affect Cap Rates?
Historical data shows that there's a close statistical relationship between interest rates and cap rates.
In other words, low interest rates contribute to low capitalization rates. The opposite is also true: high interest rates push up cap rates.
The reason is that high interest rates make it more expensive to borrow money. This, in turn, creates a situation where returns have to increase in order to maintain the same level of profitability.
As we explained in a previous blog, downward pricing adjustments and a phase of price discovery are the most likely consequences of the current combination of high inflation, high interest rates, and high capitalization rates.
Chantel Aguilar: Commercial and Investment Property Expert in Orange and LA Counties
Looking to make sense of the commercial real estate market in Orange County or LA County? Chantel Aguilar maximizes property exposure and works diligently to provide each client and every listing with the resources and time required to drive results.
Contact Chantel by telephone at 562-447-0665 or by email at [email protected] and get the knowledgeable assistance you are looking for.